This is Not Your Grandma's Road Trip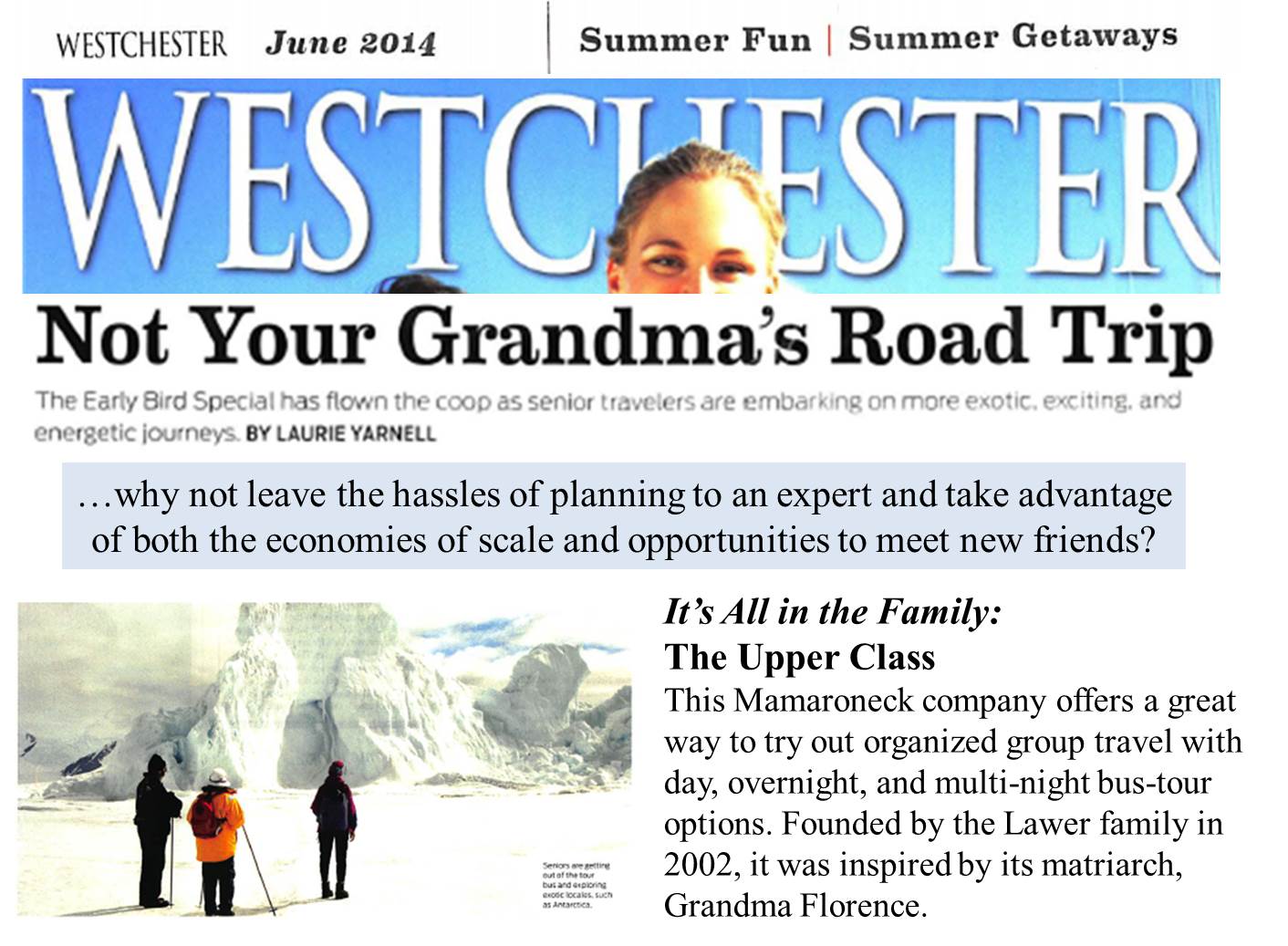 The Early Bird Special has flown the coop as senior travelers are embarking on more exotic, exciting, and energetic journeys.
Lately, trying to get my longtime, tightknit bunch of 50-something friends together for a birthday dinner has become like Where's Waldo? Westcher-style. "Heading off for a mission to Cuba," emails one. "Still in Israel. Have fun," says another. And recently, from me: "Am in Panama, sorry." At any given time, Westchester's seniors — I personally prefer "seasoned travelers" — are on photo safari in South Africa, rocking out at Graceland, or hiking to Machu Picchu.
The size of the senior travel market is estimated to be close to 4.5 million strong, according to MyTravelResearch.com, a website specializing in travel industry market research. Included in this group are Baby Boomers (like my pals), who will be between 50 and 68 this year. "Today's mature travelers are older, healthier, and probably wealthier and more educated than their predecessors," notes Rye's Susan Yuba, an eldercare specialist and founder of FYI Senior Living Solutions. "Travelers in their 60s, 70s, 80s, and even older are not as interested in completely leisurely travel as you might think," she adds. "They would like their vacations to be well planned and have variety — some adventure, some culture, some structured tours, some downtime."
Sure, you can put together a trip on your own. But why not leave the hassles of planning to an expert and take advantage of both the economies of scale and opportunities to meet new friends?
Whatever your style — whether you want a sunrise spin class followed by kayaking, or time to shop, hit the spa, and yes, nap — hey, this is a vacay —there's a senior-specialized tour operator for that.
We've put together a sampling of the most "seasoned" available — all test-driven by real Westcherites. All welcome both solo travelers and groups, clearly describe the activity or mobility level required, and use local guides and experts on-site. And, not to worry — there's nary an "If it's Tuesday this must be Mumbar" one in the bunch.
It's All in the Family
This Mamaroneck company offers a great way to try out organized group travel with day, overnight, and multi-night bus-tour options. Founded by the Lawer family in 2002, it was inspired by its matriarch, Grandma Florence. When Florence was widowed in her late 70's, her family encouraged her to move from Long Island to Westchester to be closer to them. "She left behind an active social life and found it hard to find new friends and recreational activities here," says Brooke Lawer, the company's Granddaughter in Charge of Marketing." Thus the business was born.
Florence selected the company's name, says Lawer, because it "not only describes the age seniors have reached in their lives, but also the service that they deserve." Welcome receptions, a tour director who makes personalized introductions for solo travelers ("Oh, you're from Brooklyn? So is Bernice!"), and thoughtful planning — like providing comfortable folding chairs for battlefield re-enactments — will make you feel like a member of Florence's family, too.
The company started with two trips a year and it's now up to 200 annually; premium buses offer reclining seats and onboard WiFi, movies, and a restroom, and all departures are from Westchester.
Those needing mobility devices and even small portable oxygen tanks are happily accommodated as long as the guest is able to navigate the bus stairs and go down the aisle on his or her own. The focus is on the East Coast, but trips go as far as Chicago and Branson, Missouri. Day trips average about $99; three- to six-day trips, $300-$600; and nine- to 12-day excursions, $700 to $1,200.
Marie Elena Spruck and Stephen Spruck, a retired couple in their late 60s from Yonkers, have gone on about 50 day trips and 25 overnights with the group. They call Tennessee a standout. "I don't like to drive anymore, so it was great being able to see all the Elvis memorabilia, Graceland, and Nashville," says Stephen. "And we stayed in a beautiful round hotel with gorgeous views of the Smoky Mountains from every room."